Sydney's Velodromes!
Camperdown
, now closed; also known as O'Dea Reserve. I raced on this track from 1985 until about 1992 or so. It no longer exists (it was destined to become unit housing last time I heard). In brief, the history runs like this...up to the 1970s the Dulwich Hill club (incorporating the Petersham and Marrickville clubs) raced at Henson Park, Marrickville.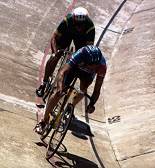 However Henson was also the home of a Sydney first grade rugby league team that needed Henson redeveloped with lighting towers of television grade. Of course the towers were slap-bang in the middle of the track. Ironically the club in question - the Newtown Jets - was subsequently relegated to a lower grade, despite the lighting investment. In any case a deal was struck where Marrickville Council assisted the Dulwich Hill Club by providing land suited to a steep-sided concrete velodrome, in Camperdown.

Read more here.